"BKX has come to our long held target of the SMA 200. That does not mean it will now obediently decline from here. In fact, the sneaky MACD does not look good to me if I am a bear. An analyst I respect, XXX XXXX, has a 'widows and orphans' short on the piggies. I do not want that trade at this time. There is room for the BKX to assume the lead in a final surge of the hope trade up to respective market targets. The BKX itself has heavy resistance in the 45 area."
--
NFTRH43
(July 25th).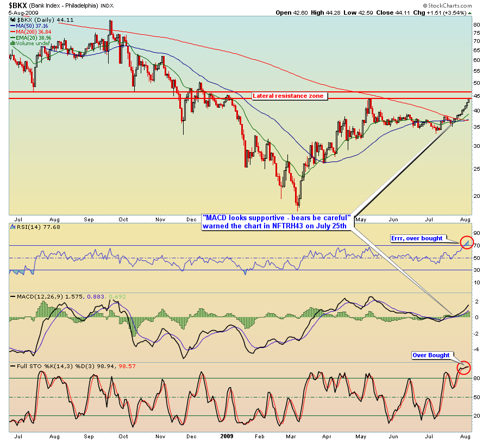 Well, what a difference two weeks makes. This index is now over bought and riding the momentum higher. A good signal for a top might be a major media source trotting out a technical analyst to tout the 'golden cross' of the SMA 50 over the SMA 200. Problem being, that supposed technical tool is about as useful as a one armed paper hanger. Or at least I think it gets way more notoriety than it warrants based on my experience.
The banks, after under performing the S&P 500 from late Spring to mid-Summer have indeed sprung that 'final surge' in leading the markets higher. I have indeed sprung another short on the financials (for which I have no undue hopes of success) but if this is a euphoria fueled 'C' leg higher, I will have to abandon ship quickly.
Like the BKX, various markets are approaching upside targets. Can they go higher still? Yup. Is the risk untenable? You are kidding me, right? This rally is (or should be) yesterday's news and now it is time to watch the dollar, which
NFTRH
is doing. As long as Uncle Buck remains shut out of the party, the festivities continue. But do you remember how pissed off he got last time this happened?