Long time blog readers know this stock. It has been my favorite 'green' play since it was a pre-Cramer, undiscovered and undervalued gem at 5 bucks several years ago.

NFTRH noted that this was added in both accounts recently at around 9 bucks as the chart looked like it could 'play a little catch up' with the bull rally. There's the break out and there's the target. I usually sell below targets, so this is in no way anything other than a trade that is well in process and nearing completion.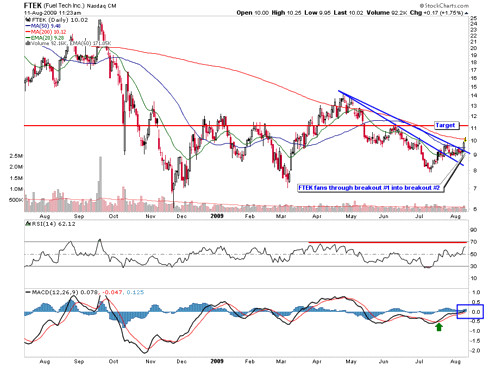 Good old FTEK... it's not that terrible 10Q and its current overlooked status (forgotten by the Cramer clowns) tell me that this will be a keeper one day when I actually believe the bull and believe that inflationary monetary policy is gaining traction into certain favored areas. That day may come sooner or it may come later.

I think it is a decent bet that political incorrectness is going to make a comeback in a big way. I for one am already tired of the 'go green' herd. But I'll plan to capitalize on their religion none the less.

Disclosure:  Long FTEK at time of writing.