Global Confidence Jumps on Signs Recession is Approaching End
"It's clear the recession is over and some kind of recovery is underway," said Nick Kounis, chief European economist at Fortis Bank Nederland Holding NV in Amsterdam, and a regular survey participant. "We have the biggest monetary and fiscal stimulus policy in history, globally, and we're starting to see it work. Probably the next debate will be about how strong and sustainable the recovery is."
The crash was global, the recovery in market sentiment is global so it is fitting that the return of major media pap is global as well. Here is a warning... convention is back in force. See that chart? See that cascade downward? The wizard's curtain was washed away in that waterfall. They call this 'the' recession. They obsess on whether it
is
or when it
will
be over. They talk about recovery. They are the major media who were scaring the crap out of the general public when it was more appropriate to be bullish. Now they are managing 'the' recovery for us, as if all is relatively well and this is simply another, albeit more intense bump in the road to Keynesian nirvana.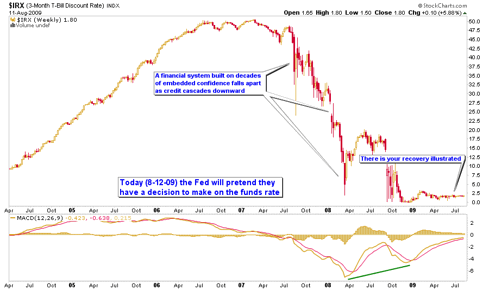 The financial system ended with the events of 2007 and 2008. Look at the chart. The entire magic show came apart at the seams and has been stitched back together with funny munny policies the world over. Funnier still, this may actually be spun into a new cyclical inflationary bull cycle. Emphasis on 'may' because nothing is resolved, despite a growing number of analysts who are giving in to the bull's call. In the boots on the ground world of stock market sentiment, the absolute worst of holders are becoming more bullish as the wise guys get cautious. With its new tools in place, you know we will continue to watch the sentiment picture closely in
NFTRH
.
If a new and somewhat sustainable cyclical bull is to generate in the next 4-6 months, I tell you brothers and sisters, this pig should take a break here and scare out some of the newly brave and test some significant support. Alternatively, if we go directly into a couple more months up toward our 'most optimistic' targets (and ironically a monthly bull signal), the major financial media are going to lather this thing to a terminally positive level. All the hold outs, the 'dumb money', will have bought the story. So much for sustainability. The 'cyclical' bull will have come and gone in perhaps a mere 6-8 months. Players will have played and bag holders will have to assume their usual position.
No, it will be more sustainable to get a correction now, test support and then mount a bull; a nice new inflationary bull in which sector and geographical selection would be of paramount importance. But let's see what we actually get. There are several scenarios and time frames in play.
Meanwhile, Mr. Kounis above ponders the strength and sustainability of THE recovery. Here in America we can't drive a half mile without seeing our 'stimulus at work'. We are a bankrupt nation with a printing press running overtime, but man are we going to have some great roads and bridges. This 'make work' is going to add productive capital to our economy exactly how? On the other side of the union behemoth stands the banking and financial leviathan, beneficially printed out of acute and fatal troubles of its own. As yet, they are not actively contributing to the productive economy in any way commensurate with the government's corporate welfare.
Today is Fed day and the 3 month t-bill says that Mr. Bernanke can pretend to stay the current course while longer term treasury yields, still elevated back to long term (downward) trend say that he can pretend that while inflation pressures have shown an uptick, they are still under control (
NFTRH
is following a very important 'trigger' point on long term charts). Fed language may change a bit; more pretending but with perhaps a new wrinkle.
Regardless of whether or not the global stock rally continues immediately to an ultimately garish high (with attendant red-lined positive sentiment) or it corrects into a) a test of strong support into a new global bull market or b) falls out of bed (and out of corrective wave 'C') and into the nightmare projected by crash forecasters, unsound policy is at work behind the scenes. Greenspan on steroids. Moral hazard gone steroidal, and this time it is global.