Here at this blog, at the risk of sounding like one of the cranky doom-sayers who is always going to be bearish, you will get my interpretation of reality. Am I right? Well, I try hard and that's more than can be said of a lot of mainstream analysis. It is the mainstream financial community's mission to get you in; to use you as fuel, food or whatever. They are paid to churn commissions and by extension, their clients. Hope and greed are intoxicating. Party on doods.

But here we will just go back to our old chart of the '29 crash and subsequent depression (from Sharelynx) and project that the S&P 500, if indeed it is to follow this template, has higher to go in the near term. You know, back in 1930 they were declaring 'the worst is over' as well. The S&P can easily retrace 50% here. So what? Get your house in order and don't get sucked in by the crack pushers. Or if you're a playah, den play, with an understanding of the bigger picture.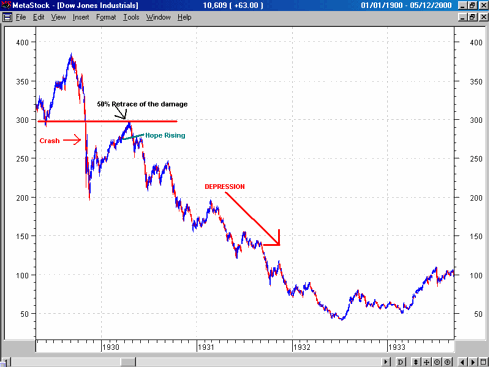 I had rather naively been drawing up parameters of a possible mini bull market. But this would involve a hard correction before the bull would extend into mid-2010. If correction does not come and the market continues to ape the 1930 action to a 50% retrace, that will likely not be good.

And once again, to the drive-by critics either here or elsewhere that this post may show up, I am not a hunkered down bear bemoaning a lack of participation in the great rally. My portfolios are at new all time highs, with the speculation portfolio at +65% from NFTRH baseline at the beginning of Q4, 2008 and +150% off the bottom of Armageddon '08. I am just highlighting caution, a concept that is rapidly going out of style. Risk is untenable.