Here is a fun little excerpt from NFTRH50 that came after some extensive analysis on the broad market (and its bearish reverse symmetrical triangle), junk corporate debt, commodities and precious metals:

Finally, let's look at former and likely future NFTRH holding, gold miner Jaguar Mining (NYSE:JAG). I wrote somewhere recently that Wall Street and the financial services establishment uses conventional investors as fuel, as food. Well, how about that miracle rise in JAG, busting higher after NFTRH sold out? Was the stock on its way 'to da moon' leaving me to cry in my beer? No, it was just the company's management planning a debt offering and politely looking the other way while some financial pigs who were perfectly capable of moving a fairly low volume stock, did their thing.

Maybe it is because I run a company and have dealt with many other companies, large and small, but I do not get the investor mentality. I have dealt with so many inept corporations (large and small) and myopic managers in my life that I prefer to invest in myself and trade these clowns. This is not to say there are not exceptions, but folks, businessmen are generally nothing but card carrying yes men going along and getting along – at best. There are always exceptions however, and these people I consider investing in.

So, it's nothing personal and someday I will likely attempt to capitalize on Jaguar mining once again, as I have several times coming out of Armageddon '08.

Support is noted in the 7's and 8's, but JAG can easily go much lower for a crack at the SMA 200 or strong support at around 5, given certain macro backdrops.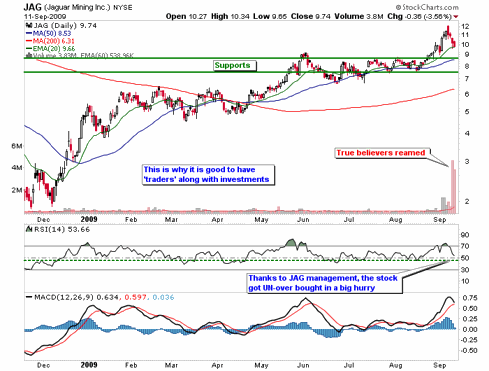 Disclosure:  No position in JAG