The things the major financial media feed the public... BTW, a gentleman from Bloomberg monitors this blog, or at least used to. Thus far I have been unable to give him anything fit to print. Wonder why? ;-)

Some readers may remember that a couple years ago I commented on an alternate blog I used to have about some TA by Goldman's technical analysts calling for a major correction in gold. They used some mumbo jumbo about fading monthly momentum and projected gold going back to 600. I wrote something like 'if gold goes to their target it will not be because of declining monthly momentum cited by these technical analysts because the monthly chart shows no such thing'. In fact, it remained bullish and we all know where gold went.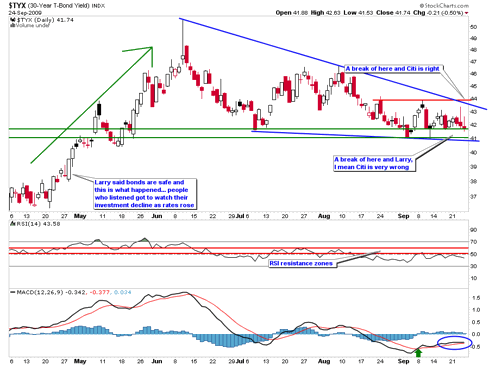 It feels slimy even comparing 30 year treasury bonds to gold, but one might at least wonder why this piece has appeared. Is it time to get the public 'all in' on the inflation trade? Is Larry too busy collecting millions on speaking engagements to give his tragic misdirection on long bonds? Basically, the major financial media are telling you that treasury bonds are unsafe. They are right too. Treasury bonds are a toxic waste dump. But I still believe that we are temporarily in a 'waste is rising' phase.

Here is a chart of my own showing some parameters. Meanwhile, for the secular trigger in the long bond, NFTRH will continue to follow the real big picture view, which has not been noted recently because I don't think it is near time for it to come into play. But it has nothing to do with foolish short term 'double bottoms' or any other noisy stuff in the media.

This article would have people jump in to the inflation trade now that things like copper and oil look like they are rolling over. Wash, rinse...

Treasury 30 Year Yields May Reach June High
: Technical Analysis
By Candice Zachariahs
Sept. 23 (Bloomberg) -- Thirty-year Treasury yields may climb to the highest since June after forming a so-called double bottom pattern, Citigroup Inc. said, citing technical charts.
Trend resistance for 30-year yields at 4.26 percent is "under threat," Citigroup analysts Tom Fitzpatrick in New York and Shyam Devani in London wrote yesterday in a report. Yields will likely advance toward 4.68 percent, the most since June 12, if they rise above resistance and the double-bottom "neckline" at 4.39 percent, the bank said.
"A double bottom has been formed and yields have been consolidating for the past few sessions," Fitzpatrick, chief technical analyst at Citigroup, and Devani wrote. "We would not be surprised to see a break to the upside soon which should result in a test of 4.68 percent."
The 30-year note yielded 4.2 percent yesterday in New York, according to BGCantor Market Data. The 4.50 percent security maturing in August 2039 rose 21/32, or $6.56 per $1,000 face value, to 105 3/32.
A double bottom occurs when the price or yield of a security makes two consecutive troughs of about the same depth, and indicates it may rebound. The neckline passes through the highest point of the double bottom. In technical analysis, investors and analysts study charts of trading patterns and prices to forecast changes in a security, commodity, currency or index.
To contact the reporter on this story: Candice Zachariahs in Sydney at czachariahs2@bloomberg.net
Disclosure:  Long TLT