The rush is on. The rush to the top and inevitably, capitulation to the upside. Carefree traders are loving this and I am sure many people who still have not lost faith in the American system, the WALL STREET system, are feeling satisfied as they watch Goldman Sachs upgrade the banks about 6 months too late, and await more of that oh so non-productive stimulus to bail them out further... at the expense of the nation's currency.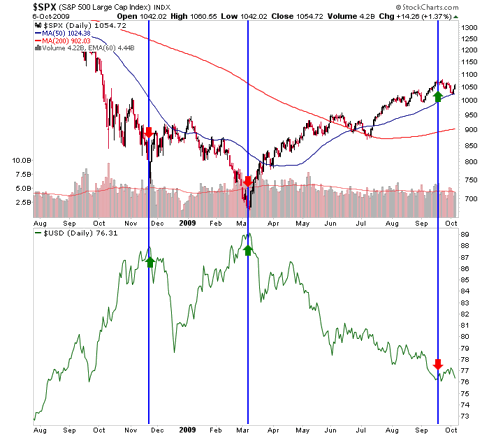 We in the US are a nation of vampires. Some of us suck the country's blood willingly and habitually, while others do so through ignorance. The currency is being sacrificed by a nation that has fallen off the charts with regard to any kind of responsible and moral link to sound financial and economic practice. What we are attempting has usually been reserved for banana republics and 'there is no way we are a banana republic' thinks the average American.

We are a banana republic. A massive and dangerous one. Fully armed and fully choked with a thick hubris that was created through a century of preeminence.

Larry Kudlow's twisted fantasy of 'King Dollar' rising along side the great US stock markets aside, we continue to watch our live chart, busily updating each day, showing the 'progress' the nation is making in coming out of 'the recession' and 'the bear market'.

To this point I have awaited the moment when the King stops playing court jester and starts ripping greedy non-critical players a new one. If there is any saving the country, it will come in the form of a lurch toward deflation and a compulsion of asset market addicted players to get into detox.

Only the dollar can save the dollar. I expect the Chinese will try to talk a good game as they are stuck with all those US treasuries and currency reserves. They will not talk down one of their largest assets, although I expect them to sell hard into any coming deflationary event, leading to a time when that ascending and industrious country resumes its evolution while the USA either begins the journey toward rediscovering its productive past or pathetically attempts to sell the world ever-more cheap and valueless bananas of short, medium and long term duration.

The nightmare alternative however, is that China panics and dumps US dollars and US treasuries in the face of the US' bold and shameless attempt to devalue its obligations to its creditors. At that moment, the moment of every man (country) for himself panic, hyperinflation will take hold quickly and the global race to the bottom will be in gear. Let's hope for the bout with deflation first. Believe me, it will be easier that way.

I am and have been bullish gold since 2002, and am a firmer bull on its monetary VALUE than the vast majority of gold hypers. I do not want to see 1300 gold (my current intermediate target) in the near term, and I hope we never get to 5000, which I believe we are on a course for because after all, off the charts is off the charts. Gold is within spitting distance of the lower end of my near term target range this morning.

It will be best to get everyone whooped up in a final rush of inflation panic, catch 'em offsides and descend into corrective activity. Killing stock bulls and severely punishing resource, commodity and precious metals players who dance of the King's grave. Will that happen? Stay tuned.

Okay, enough now. I am showing my bias (the dreaded emotion that a trader cannot afford) and that is because it pisses me off watching smart alecks and wise guys hold sway. Their time will come. All of our times will come.