Here is a short excerpt from NFTRH56, dated October 25, 2009. This is the 'Wrap Up' section that concludes the analysis portion of each NFTRH.
We come toward the end of another report that cannot tell you exactly when things are going to change, even as I remain confident that the dynamics of change are falling into place.
The USD remains at the center of the show as a nation (and literally a world of assets) depend on its continued devaluation to keep the party going. My playbook generally calls for the deflationists to once again get a chance to claim the high ground, from which they will once again lecture the great unwashed masses of 'greedy' inflationists.
At that time, deflationist hubris in full swing,
NFTRH
will look to revert back to its more comfortable (than the current holding pattern) mode of buying misperceptions and fear, in the form of quality gold mining and exploration enterprises, hopefully being burped up yet again by scorned inflation traders.
As for the USD [weekly] chart, we have a would-be bullish falling wedge down to support and we have some serious 'Banana Republic' / 'death of the dollar' stuff going around in the media. The set up is there for change. The set up is there for the less committed of the commodity and stock bulls to be washed away.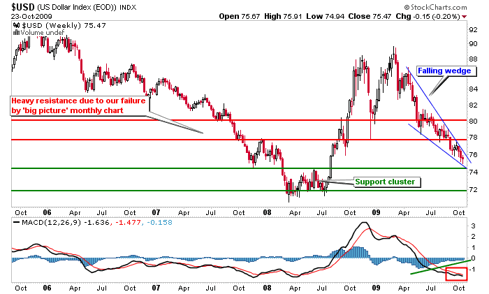 But on the bigger picture, there is also a set up taking shape that shows the USD having lost critical long-term support in the 78-80 range. This level will need to be watched closely during any dollar rally that may spring here in the coming weeks. If that level holds as resistance, the next leg down could well happen in the global race to the bottom in currencies, led by Uncle Buck. But if an enraged USD ever surmounts that level and holds, there is going to be hell to pay to the deflationists before any thoughts of recovery.