Last week UGL was bought for a gap fill at support. Gap never filled and it is a good lesson on why I do not worry about the last few percent when selling or getting absolute bottom when buying.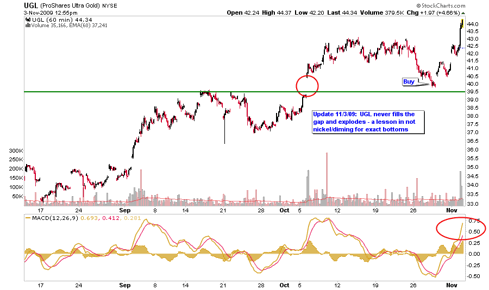 Most everything I do has a reason beyond the nominal looks of the trade anyway. I want the right things long against certain things short. As a portfolio manager, I am sort of a mad scientist. All sorts of different concoctions designed to play off each other and manifest in good performance.

Anyway, here's the updated UGL (2x the gold price) 60 minute chart. A sweet day where many of my shorts are green and my gold stuff is ass launching. Just the way I concocted it. Yeh, that's right.