"Buy stocks or buy bonds?" wonders the herd. That is the way the financial establishment would like to keep it, in that neat little package. Funny though, that the most important bond of all, the long treasury bond, is rarely used in the financial establishment's decision making on where to put the sheep... I mean, its clients.

Well, as we know, the long bond is threatening to do something that is very big and very noteworthy to people who want to be on the right side of 2010. This daily chart would target 5.1% if the neck line of the inverted H&S like object (that is what I call H&S that are ill formed or technically have issues, like no previous down trend to reverse from - just like the major formation in gold that I neigh said as a true H&S). The target on a breakout remains the same however, just like with gold.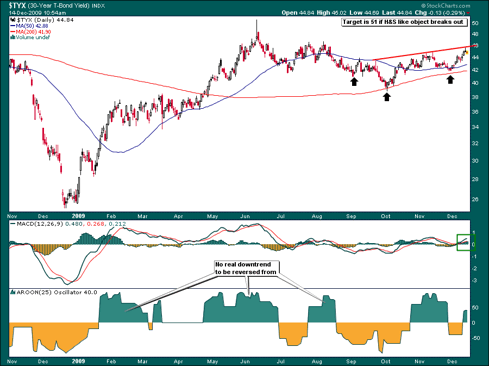 The target of 5.1% would pierce our biggest picture line in the sand, the 100 month EMA (currently 4.8%) and create a lot of intensity for the markets. Now, in the agonizing way of markets, this piercing would not represent a secular breaking of the line. We would then need to wait for a monthly close above and even then, micro-manage events.

Jeez, no wonder most people don't like to do this. It sucks to have to look at things like this and ask questions like that, for months on end. But you know what? It is necessary and that is why people pay their respective professionals (good ones and not so good ones) to do it for them.