Whether or not you choose to subscribe to what I do in detail each week in NFTRH, I have a general idea that readers of the blog are not the usual financial market participants; that you are generally a group of people who have moved beyond the bromides and sooth-sayings of Wall Street, and I would guess many of you have moved beyond the need to settle in with the herd for comfort.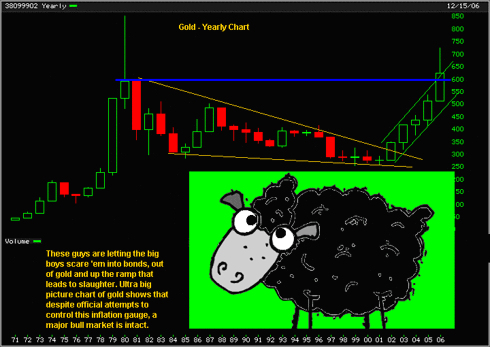 So, I guess in some respects I preach to the converted each day. But there are new readers all the time and I see this as a marathon, not a sprint. I have been doing this for enough years now to realize that it is something in me, driven by a need to put out a bullshit-free view on things. That does not mean I am always right, but it does mean that I do not feel this is just another easy to swallow financial blog, passing along easy to digest info-bits on the markets.

It has been a long and strange journey since I began writing publicly. Cattle prodded into action by a consciousness raising 'guru', the website and later the blog came to be simply because I was so concerned about the nature of modern financial system, I simply had to find a way to get the word(s) out.

Not just my own of course. I remember that one of the primary voices I wanted to help get heard was that of David Walker, former US General Accounting Office chief. Right there, on the government's own web servers was this earnest man telling the truth. Did the herd listen? Well, how many people's IRA's are still below their levels of two years ago? No, the herd swallowed the Wall Street bromides. The herd followed.

Things have evolved here in biiwii land. You can only put your full passion into something for free for so long without either progressing or burning out. I chose to progress into the commercial newsletter world. But nothing has fundamentally changed. The herd will always be the herd. Check out this tiny little blurb from 2006. It was written exactly 3 years ago during a stretch where gold had been consolidating downward for most of the year and a lot of negativity was cropping up. The yearly candles on this chart simply showed it had gotten ahead of itself.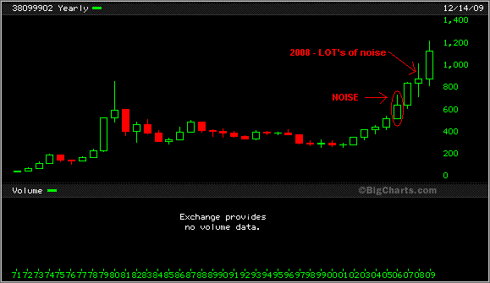 Calm the noise whenever possible, while at the same time maintaining vigilance.


Disclosure: Long several components of the precious metals sector