"The story of the year was a weak economy that could have been much, much weaker. Thank the man who runs the Federal Reserve, our mild-mannered economic overlord."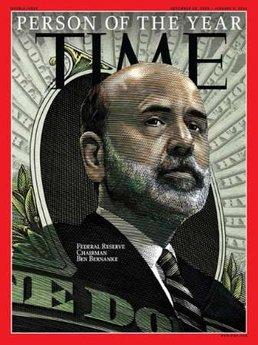 Full Story
.
I have held open the possibility and even probability that we have seen the lows in the markets with the passing of the capitulation last March. I have twittled (my term since before Twitter) up several scenarios, some of which are bullish for markets in nominal (not in ratio to gold) terms.
But there has also been a scenario that sees the major media - the same major media that worked Armageddon firmly into the public psyche - trumpeting the heroes of the recovery, and indeed the heroes themselves trumpeting the recovery. Now, gentle Ben is too polite to self-aggrandize in the manner of his predecessor, but Time has done it for him. Check out the
slide show here
.
Just as the major media giving its believers NO HOPE FOR SURVIVAL in March was a bottoming indicator... well, what the heck do you think this is? Also, how perfect is it that they have superimposed Ben's likeness on a dollar bill? The man cast against the currency he devalues to bring on the much hailed recovery.
Lest anyone need reminding of what Time had to say last year...