Hmmm, it is silly season and the markets are levitating against my short positions. The precious metals correction that NFTRH had anticipated is well in progress. I remain long there. So, by extension I must be pretty bummed out, yeh?

No freaking way. Momma always told me to have patience... and a plan. I do, and if nothing else I look on with a sort of comic bemusement (if that's possible) and await resolution. Noise baby, noise.

Speaking of which, last year during the deflation scare, somebody sent me a particularly good bit of noise, the self-proclaimed "scariest gold chart in the world", targeting gold at below 400. Now, it is easy to produce charts like that during a deflation when there is little apparent chance of the metal actually breaking to new highs, as it ultimately did a few months later.

This is the kind crap that comes out and reinforces the popular sentiment. Right now, that dynamic is going on in the markets to the upside. Well, I will show you what I think is one of the scariest charts in the world; the yield on Larry's 30 year bond.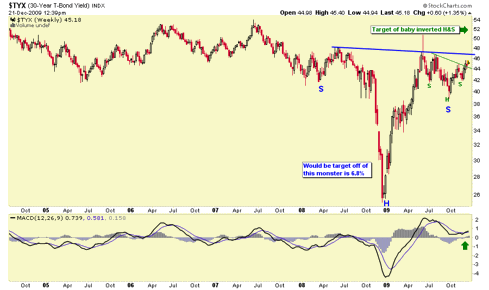 See the baby inverted H&S (green) that has already broken the neck line? That targets close to 5.2%. If that target comes to be, then we will have broken the neck line on big bro (blue) and its target of 6.8%. How do you think such a rise is going to play with the macro wizards and their ability to sell US debt around the world? At best, I could envision a self-reinforcing buyer's strike on US treasuries as would-be buyers await maximum yields for buying the debt of the hopeless and chronic inflator. At best.


Disclosure: No position in long term US treasuries