Mr. Marc Henderson of Laramide Resources, owner of uranium properties and other resource investments, has been buying his own stock in the public market at the same levels I bought it. In fact, he even took a few well above those levels.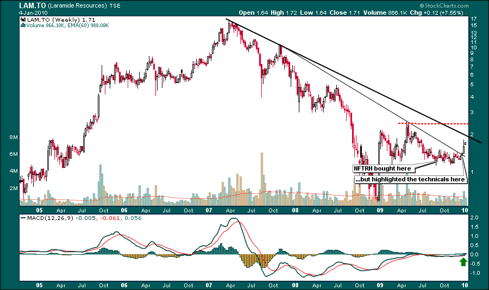 I had noted in NFTRH66 the reason I will not invest with the management of one of my current gold stock holdings, no matter their excuses, and the reasons why I will do so with the management of another. Neither had to do with insider buying or selling of their stock. But there are myriad ways company managements need to be evaluated and well, it sure does not hurt to have them sponsoring their stock as you put your hard earned money on the line. Thanks to subscriber Barbara for the heads up on this.

I am not recommending LAM.to for public consumption now post-breakout because I am a chronic bottom feeder and I am not privy to the reasons why Mr. H is buying. Could just be routine. But I think I may just hold a while here.

As a side note of interest, this is the same Marc Henderson who long ago acquired the highly prospective Dolores gold & silver property for Minefinders and fought a blood battle as CEO for Aquiline over their Navidad Silver property (LAM.to currently holds a stake in AQI.to). Otto at IKN has had mixed reviews on Henderson revolving around something of a gruff personality if I recall correctly. But the guy gets the job done. I like people who are soldiers, who attain their goals... especially when they have my money in tow.



Laramide Resources Ltd. (LAM)
As of January 4th, 2010
Filing Date
Transaction Date
Insider Name
Ownership Type
Securities
Nature of transaction
# or value acquired or disposed of
Unit Price
Dec 31/09
Dec 31/09
Henderson, Marc Charles
Direct Ownership
Common Shares
10 - Acquisition in the public market

10,000

$1.670
Dec 31/09
Dec 31/09
Henderson, Marc Charles
Direct Ownership
Common Shares
10 - Acquisition in the public market

10,000

$1.620
Dec 31/09
Dec 24/09
Henderson, Marc Charles
Direct Ownership
Common Shares
10 - Acquisition in the public market

150,000

$1.400
Dec 31/09
Dec 23/09
Henderson, Marc Charles
Direct Ownership
Common Shares
10 - Acquisition in the public market

20,000

$1.350
Dec 31/09
Dec 22/09
Henderson, Marc Charles
Direct Ownership
Common Shares
10 - Acquisition in the public market

10,000

$1.320
Dec 22/09
Dec 17/09
Henderson, Marc Charles
Direct Ownership
Common Shares
10 - Acquisition in the public market

30,000

$1.300
Dec 22/09
Dec 11/09
Henderson, Marc Charles
Direct Ownership
Common Shares
10 - Acquisition in the public market

22,500

$1.300
Dec 22/09
Dec 11/09
Henderson, Marc Charles
Direct Ownership
Common Shares
10 - Acquisition in the public market

3,000

$1.290
Dec 22/09
Dec 11/09
Henderson, Marc Charles
Direct Ownership
Common Shares
10 - Acquisition in the public market

4,500

$1.280
Dec 14/09
Dec 04/09
Henderson, Marc Charles
Direct Ownership
Common Shares
10 - Acquisition in the public market

12,800

$1.320
Disclosure:
I own LAM.to