Yup, back on message. Now I know why politics is a borderline taboo subject to many people. I am going back to where I belong, am comfortable and most importantly, enjoy.

This morning we find all the usual players aligning in their proper roles; the herd perhaps beginning its awakening process with a dim 'duhh, what the?' as the market fails to respond to strong earnings reports - again.

We find the precious metals doing the expected with greedy downside targets all mapped out as the misperception game is about to get cranking. As we have gotten closer and closer to the secular 'inflation' trigger point (EMA 100 on the monthly long bond) risk of reaction has only increased along nearly all asset classes, excluding notably dear old Uncle Buck and potentially the treasury bond so closely tied to his wagon (or is it the other way around?).

I dearly want to post a couple charts of the HUI for you, with several scenarios in play. That is my wheel house after all. But people pay me to give them something extra so I need to withhold certain tactical information from public view. But suffice it to say, you just need to keep your head screwed on straight and try not to become a casualty of the noise that may be directly ahead.

Meanwhile, here is a weekly chart of the long bond's yield, having turned down from the area of the 'trigger point'. Ponder it, because it is for all the marbles.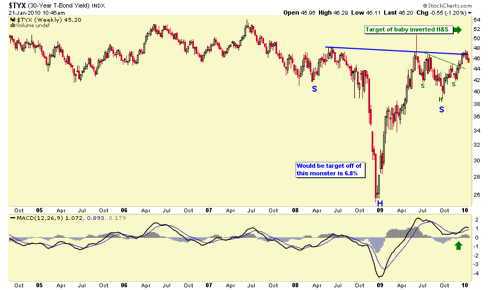 Disclosure: Now short several things, none mentioned above