Here is the original Fission Energy chart I used in one of the year-end NFTRH's, when highlighting some uranium companies I was willing to put my money on. Besides the chart, which I liked as a bottom feeding exercise, there is a fundamental reason I liked the company as well, speculative though it is. And that reason is management, just like with fellow U holding Lam.to.

My positions in FIZZY are not large, but are just right for a speculation on a company that is up another 8% today (127% for the week).

The chart has obviously been updating, but it was highlighted in NFTRH as FIZZY's eye was merely twinkling at the thought of breaking out (blue line). Perhaps some have sold, but the bag holders at NFTRH continue to hold on.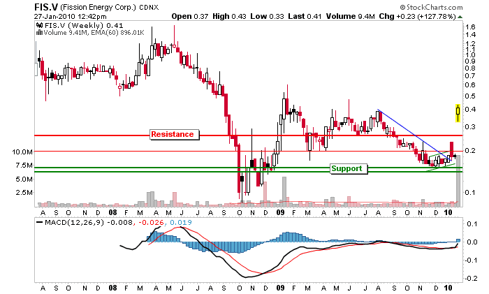 The uranium play was a potentially good opportunity for traders or long termers to establish positions. But right now, all eyes on... you know where. Da goldies.


Disclosure: I am getting fizzy w/ FIS.v (I own it at time of post)