After doing a 15 min. chart showing critical support for subscribers in an email update yesterday, I thought I would dial out Huey to a longer term perspective by weekly chart.  This is a stripped down version of a chart NFTRH has used for the last several months to define upside targets (check, 475 long since accomplished), downside supports (we currently sit on the first important one at around the EMA 75, with more below, including a 'no brainer' at which I would be a strong buyer).

Not a great looking picture, is this?  There are relief rally targets up above for the eventuality that 'they' sweep Greece and other issues under the rug, plug a mini-denial rally into the grid and shake out some shorts on the broad global markets.  The current plan on precious metals equities is to be a seller at these upside targets, and a buyer at strong 'bottom feeder' supports.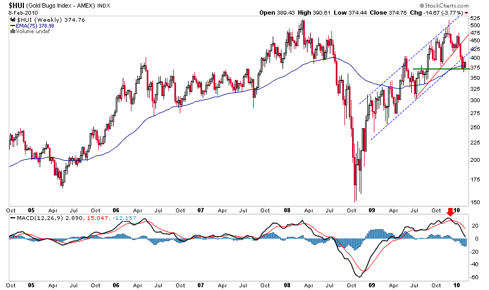 A lot of the risk has been bled out of the PM's since December, but I can't help but think that gold is going to get drawn like a bug to a light to the big picture support at or a hair below 1000.  Gold stocks?  Still roughly correlated as they are to the stock market, I expect more downside before the herd realizes the superior fundamentals in the making.
Let's see what today brings.  But one thing I can be firm on is that volatility and misperception lay ahead in all market areas.  Governments need to fund their ongoing and inflationary bailout operations.  But to do so, they need the lever to pull.  The lever is named Prechter.  The lever named deflation.  The lever that is made of confidence in US treasuries and other global debt paper.
Gold stocks should not - and probably will not - run with the broad markets and commodities once their unique fundamentals are asserted.  But for now, they are unfortunately part of the same construct.
Disclosure:
Long the precious metals