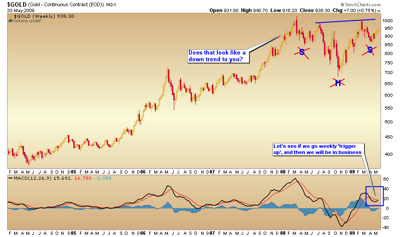 I saw it pop up with a guy looking to make the chart mesh with an always bullish view. I saw it again with another on a gold site as part of a 'hyper' bullish stance. I now see it in the work of a savvy trader, who will dump out the second his stops are triggered and finally, at a respected technical analysis site.

I am now seeing the inverted Head & Shoulders (AKA H&S bottom) on the weekly chart of gold all over the place. I am also seeing bullishness return as the USD goes in the tank (predictably, but perhaps not fatally). In short, I see all the familiar herds assuming all the familiar positions as the spin cycle kicks in.

That is not an inverted H&S on the weekly. It can't be because there is no prior weekly down trend for the H&S to reverse from and the H&S is nothing if not a reversal pattern. Now, whatever this pattern is, it is not at all bearish in and of itself and if we get a MACD trigger up on the weekly, gold will perhaps be in some big time upside business. The target, upon a break of the illusionary inverted H&S' would be neck line, is 1300, which I have had loaded for months now. BUT... that could still be many more months off.

So for now, to paraphrase Babu: Where is prior down trend, Jerry? SHOW me prior down trend!
Biiwii.com Technical Analysis & Commentary, Biiwii.com, NFTRH