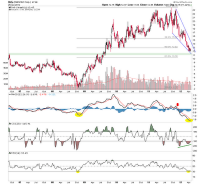 IAMGOLD Corp. has a lot of cash, no debt and a strategic plan to acquire cheap ounces in an epic and sold out environment for the sector. In other words, IAG is thinking like a predator or a capitalist in exactly the same fashion NFTRH has been throughout this process.
As a side note, I want anyone who is experiencing pain now due to the sector wide mini depression to please recall all sources that were pumping you in the opposite direction (that would be up) during the intense hype of last summer and compare that to what they may be saying now.
Disclosure: I had a ridiculous (??) target of HUI 888+, but that was a technical measurement and was pending a breakout and hold above a certain level. Short of that, all due risk management came into play every step of the way. It's the only way you survive.
Additional disclosure: I am so bullish now (unlike last September) I can taste it.
Anyway, this gold company now looks interesting, technically. It is in a weekly Falling Wedge (more significant than a short term daily one), just above long term support and is in the grip of more negative momentum than in 2008, by MACD. There is also a measurement to 11... former trading range high of 23 - trading range low around 17 = 6. 17-6 = 11. Simple.
While it may be a buy here and now, 10 to 11 bucks would be a no brainer from a technical standpoint.
Yet another disclosure: I don't own IAG, but may soon.
http://www.biiwii.blogspot.com
http://www.biiwii.com
http://www.biiwii.com/NFTRH/subscribe.htm
Disclosure: I have no positions in any stocks mentioned, and no plans to initiate any positions within the next 72 hours.