Again, for more real time posts, please visit the regular blog.
The thing I keep coming back to in my mind is that no sane person would have the balls to go on record as the Fed chief has done without strong evidence (that has perhaps not yet been made clear enough for the major media to get hysterical over) that things are about to get much worse than those fantasizing about a real economic recovery would like to believe.
The Fed will lose all credibility [to answer the quote by Captain Obvious in the previous post] if the bond breaks down (rates break out to the upside).  Here is the long bond proxy, TLT benefiting due to the stock market's weakness yesterday and Bernanke's jawbone today.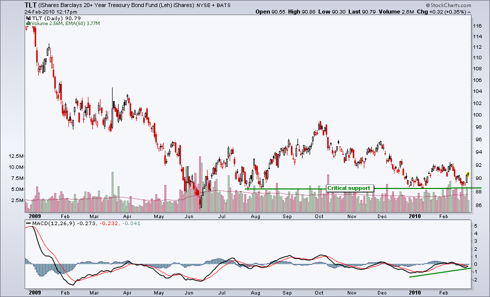 People looking at individual stocks or commodities are really missing the most exciting drama play out in the macro that I can remember.  That includes the hysterics of Q4, 2008 which had of course turned out to be the result of the unsustainable policies that many of us had chronicled for years before.
Disclosure:
No position in TLT