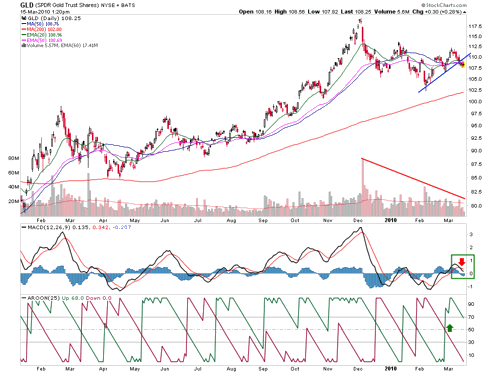 NFTRH
readers know that there is a technical target lower for gold in a more intermediate time frame. The big question - to those who care, and I don't particularly - is what will gold do in the short term?
We have a short term target of a potential test (and likely failure) of the highs from Q4, '09. Some people are freaking out about the short term trend line and MACD trigger down but trend lines are in my opinion one of the most bogus TA guides, causing people to screw up way too often if they happen to put too much weight in them.
Of much more importance are support/resistance levels and in the case of gold proxy GLD, that would mean it should not make a lower low from late February. The loss of trend IN ADDITION to a potential loss of moving average support (cluster) along with a lower low would indicate that maybe there is a chance of downside targets coming into view sooner rather than later.
That would be the point opportunity comes into play. As I have noted to subscribers, continued upside might also bring opportunity - to sell, as opposed to buy. I love the markets, don't you?
Disclosure:
No position in GLD