I am not saying it is time to drop NFTRH's "Elevated" risk profile for the gold stocks just yet, but this monthly chart should prove calming and just might hint that the intermediate correction ongoing since froth topped out in November, may be looked back upon one day soon as an opportunity.

The broad markets are probably not going to crash as the perma-bears would like, but a hard correction can come at any time given the sentiment profile, extended valuations and 'down the rabbit hole'-like wonderment of the ongoing rally in hope and economies all due to the magic of monetary inflation.

The gold miners led the whole mess off of the crash bottom and one wonders if they, now followed by commodities might be leading an interim correction before reflate-o-rama round 2. Throwing a kink into the works remains the 10 and 30 year bond yields which look bullish as hell. It is still a good bet that policy makers don't like seeing that and if they break out, the barn door comes down, I would think led by gold and da minas.

As for the chart, it is constructive that the slower (than MACD) TRIX smooths things out, declines to major bull market support and triggers up.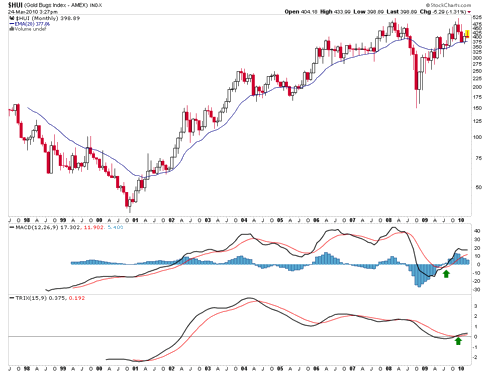 Disclosure: Long core gold stocks