I am in the inflation camp. I felt that the TNX (10 year yield) was struggling to make a bottom in the early part of the decade in response to the hoary monetary policies of Greenspan and Bernanke. I was wrong and the bond (I just had a laugh as I slipped on the keys and misspelled it 'bong' market) rose - rates declined - into Armageddon '08.

But there are - or at least have been periodically - interim deflation... episodes all along the way during our inflationary continuum. What troubles me now is that I am seeing some analysis out there talking about how Bernanke defeated inflation by debasing currency; how he proved he can do it and he will do it again at the drop of a hat.

My point here is that he is not super man. Bernanke can do what his funding mechanism tells him he can do, and that mechanism is the treasury markets and in particular, longer term treasuries on which all sorts of asset markets are dependent, like the oh so important mortgage market and all those related bailouts.

So please bulls, inflationists and fly guys, do not just talk about continued inflationary policy unless you are willing to explain the exact mechanisms through which the Fed is going to inflate. The Fed is not all-powerful; rather, it is like a vampire that sucks the blood out of a healthy and productive system. The life blood of the system now is the confidence - such as it is - in the US Treasury market.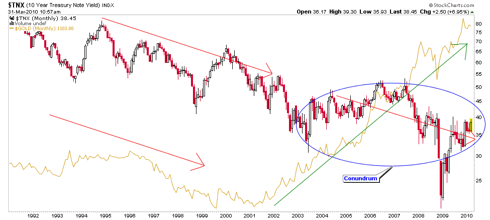 Disclosure: No positions mentioned