NFTRH
is not a trading letter by any means. But I trade because that's a tool I use to keep up with and exceed the inflation rate. The chart has been updating since it was first presented in
NFTRH
and the trade was
noted on the blog originally
w/out a chart or identification of the stocks in question.
The original intent was to intiate FTEK - an old favorite of mine - on the pullback and then add on a gap fill. I got a bit stingy on the gap fill and never got more. So be it.
SIGM was a pullback and buy around the 62% fib. These are bottom-feed (in relation to the upside hysterics elsewhere) bull plays and after exercising some patience, we get to slap the 'so far so good' designation on the trades. We'll see how it works out.
Downtrends attempting to break up and out.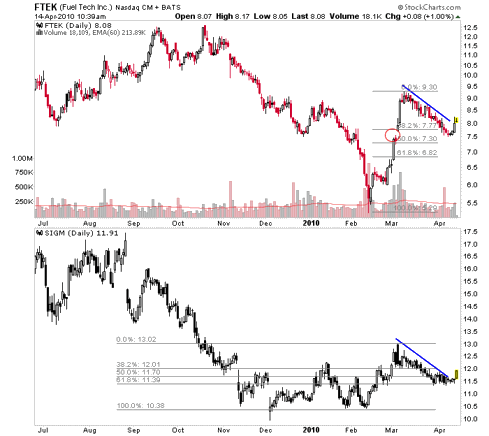 Please do not take this as a recommendation because they are just trades and if the objectives fail, the trades will be in the books quickly. This is just an illustration how, aside from the precious metals, I beat the inflation-fueled market at its own bull game back in Inflation Bull Part 1, circa 2003-2007. Your tack may of course be different.
Disclosure:
Long both FTEK & SIGM at time of writing.