Up 8% today on panic policy as world markets cheer. Our heroes at Fiat Central are on the job, creating ever more distortions to be dealt with in the near future. But assets are rising, which is the ultimate goal of the inflate-or-die crowd, is it not?

So the next time some central banker tells you his or her job is to maintain price stability, you can laugh and go about the job of protecting yourself... from a) the short term deflationary destruction these people create and b) the longer term 'baked in the cake' inflation they promote all in the name of maintaining the illusion of control, of power.

The $CAC sports a potential reverse sym-tri which is a reversal pattern (up to down). The fact that the most recent high did not hit the top line argues against new highs as relief courses through the market's veins. Although creepily enough, the measured target of the bottoming pattern was never registered and corresponds with the top of the sym-tri.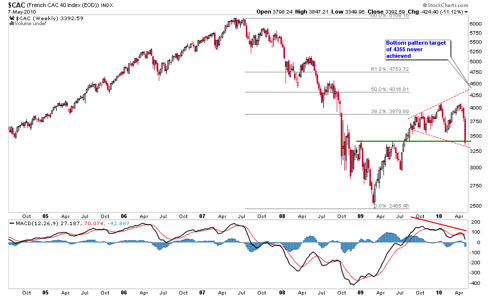 Creepy yes, but look who is in charge of global market manipulations. Anything is possible when desperation meets powerful policy making ability, no matter how destructive it may be beyond the short term.


Disclosure: No position