NFTRH Update
May 29, 2012
Subject: HUI Parameters (60 min. chart) & Comment
"A normal looking reaction is in play. The attached 60 min. chart shows a series of higher highs and higher lows.
I would like to see 400 hold, if not the EMA 120 at around 410. What would make this normal reaction less normal is if a lower low (to last week's low) happens. Then we are on the Bottom Retest Express. Since the bottoms in gold and silver are still vulnerable, this could make for some white knuckle moments.
So I would like to see 400 hold. People have been asking if I think the bottom is in for the gold stocks and the answer is yes, I think it is in. But I am trained to manage instead of predict, and the management regimen dictates that all possibilities be respected. Hence, I prefer to manage parameters like 'normal' (400 or above) and 'abnormal' (a breakdown toward the lows) and adjust accordingly.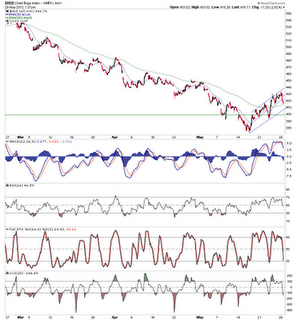 We expected turbulence, it is here and now we have some parameters to go by.
That was the technical robot. The human side of me is getting a little tired of the USD, deflation, Euro falling apart and other stories that have got people really scared. I guess I am tiring of the whole 'really scared' backdrop. I felt this way about the copper, oil, silver bulls and T bond bears last year. But it takes a lot of patience to manage through these phases where big change is possible.
Regards,
Gary"
Me again, live: Here's the chart in its current form. Anything can happen of course, but so far so good...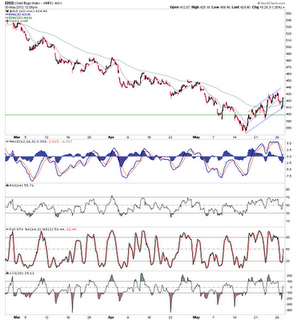 http://www.biiwii.blogspot.com
http://www.biiwii.com
http://www.biiwii.com/NFTRH/subscribe.htm