After months of street fighting, holding patience and perspective as the key elements of our stance, the NFTRH subscriber base somehow overwhelmingly stuck by me and even grew a little as I at times wondered 'how on earth can these people stick with this?'
They are incredibly sophisticated as a group and stuck with it alright. Now the data points are coming in with respect to the macro; both in the precious metals and their post 'Jobs' reaction and in the broad markets and commodities, and theirs.
The massive counter party is puking the stock market and huddling in the long bond and the US dollar and things are simply lining up. What else can I say?
NFTRH190 out now.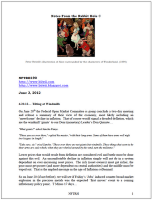 http://www.biiwii.blogspot.com
http://www.biiwii.com
http://www.biiwii.com/NFTRH/subscribe.htm
Or sign up for our free e-letter: