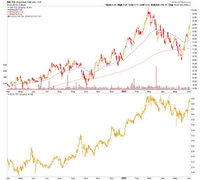 One of my preferred themes is young gold producers with good prospects (no pun intended). Miner #1 is Argonaut Gold, which I was lucky enough to buy low, sell high and buy low again. It is one I fell into after it bought former NFTRH core holding Pediment Gold.
Miner #2 is Rio Alto, which I held through the recent turmoil and increased near the recent lows. I would not have known about this fine company if not for Otto over at IKN. So thank you Otto for finding it and keeping an eye on it fundamentally for me.
Looking at these charts, one might wonder what all the painful fuss was about in the gold sector. But then one might think about all the exploration scams and poorly run producers out there, look at their charts and have it all make sense.
One might wonder how well the well-run operations might do when the gold sector makes its turnaround for all the world to see. I think that relative strength is a good sign for a young gold producer. It shows they are on track and doing what they say they will do.
For the other kind of young producer, have a look at the chart for JAG.
http://www.biiwii.blogspot.com
http://www.biiwii.com
Sign up for our free eNewsletter:
http://www.biiwii.com/NFTRH/eletter.htm