Rising and Falling Wedges are often presented by chartists as having more power than they really do. A 'bearish' Rising Wedge after all just sounds scary. I find that they are often used by the charty to promote a preconceived bias, but are often no big deal even if they happen to resolve the 'right' way and per the chartist's bias.
So in that spirit, here is a Falling Wedge on the SPX supporting my bias which, for several macro fundamental reasons is that the market is going to find support in this thick cluster from 1200 to 1260.
Any rally attempts however, will not be actionable until the top line of the Wedge is broken.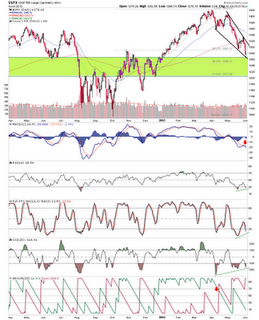 http://www.biiwii.blogspot.com
http://www.biiwii.com
Subscribe to our free eNewsletter: