As the herd panics into these instruments (thank you herd for price appreciation to go along w/ the divy's) just remember that this is a necessary process for funding the next inflation. How the hell were the inflators going to bail out the next phase of the contraction without confidence in the US Treasury market?

This dynamic is why the recent flirtation with the big picture 'line in the sand' on inflation fear tolerance was so important and potentially alarming; how the hell would they have funded operations if the inflation bulls had broken down the barn door? How?

Here's our old Treasury fund chart, steaming right along. I own SHY & IEI (1-7 year); too chicken to buy longer term debt of the inflator, however.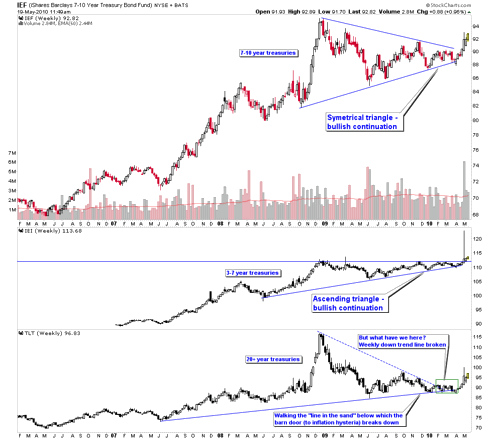 Disclosure: Long IEI and SHY