As I freed up all that cash from bear positions, I thought hmmm... what to add in precious metals sector. First off, there was NFTRH's long time favorite gold exploration company releasing positive news and getting slammed. So I added there.

Then there is the nice look of this ultra gold (NYSEARCA:UGL) ultra silver (NYSEARCA:AGQ) chart that got me thinking "say, gold got hammered today... should I buy a price tracker?"

I bought UGL based on this chart. Yes, it's an inverted H&S that correlates to the would-be bottom making one shown here previously on the standard gold-silver ratio. I do not want to pretend to be overly brave right now. I'll sell this gold price tracker tomorrow if need be. But then again I was not overly anxious either due to the cushioning of the short positions.

The whole ratio comparison exercise was put in motion by an email from a subscriber - a fund guy - who advised he was buying AGQ heavily. Silver will likely outperform short term if a rebound visits, but I am an old fashioned fuddy duddy; I like relative stability.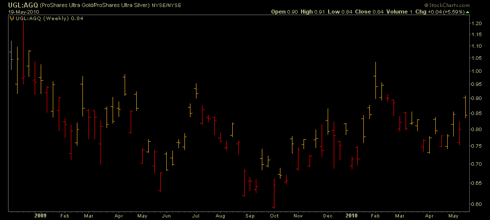 Disclosure: Long UGL at time of writing.