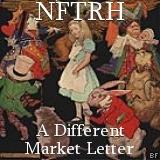 Number 86 reviews the gold sector with respect to the prospects for that famous but elusive leverage to the price of gold that experienced players look for. The Dow-Gold ratio threatens a signal which will bring on the next phase, now that Hope '09 is petering out. Nominal HUI gold miners and the metal itself are analyzed technically from both daily and weekly perspectives, with a monthly big picture on the HUI thrown in for perspective, which is something all too fleeting during times of high emotion.
We then look at nominal stock markets, commodities and the all-important US treasury market and interpret the inter-relations and meanings there. Perhaps NFTRH's most important ongoing signpost, 'Smart/Dumb' money sentiment along with volatility (VIX & equity put/call ratio) are doing some very interesting things as well.
NFTRH's risk table has been adjusted this week on the short term (from 'high' and 'elevated' in most cases), a couple precious metals stocks are looked at in technical detail; one a current holding and one I would like to buy - with patience - at a certain technical level that shouts 'LOW RISK'.
There is also a 'Wrap Up' segment focusing on the US dollar and euro. This will be sampled in the next post.
Have a great week and keep your heads screwed on straight. It's noisy out there.
Disclosure:
No positions mentioned