The MMM (macro market managers) and D(flation) Boyz both tend to hate gold. The MMM because it shines a light of truth on the monetary system and the D Boys because it continually flies in the face of their doomsday analysis.

A quick qualification here before I shut up and let you ponder the chart; D Boys like Mish and even Prechter have a much more nuanced view of gold than the real rabid variety deflationists. But Prechter tends to exclude some important factors at least as they pertain to my favored stock theme, the gold miners. Mish seems to understand that there is a difference between a rush for cash and a rush toward value.

Anyway, da chaaht... weekly gold moving along its merry way, not caring about the reactions (or their causes) from over bought status. Anyone looking at this chart without an agenda has to be pretty impressed. If the recent recovery ends up getting a 3rd red box, it is simply an opportunity.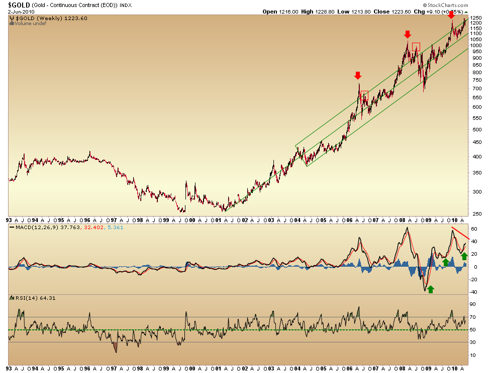 Edit (9:52) And then there is Rick Ackerman, who is I would say the D Boy about whom I think the most warmly and highly; a real thinker is Rick. Here is his No Escaping Deflation's Fatal Drag on Economy. We once had a back and forth on the subject that was very satisfying. Ackerman has got nuance in his game; this is not all one or the other. People need to stop thinking in paint-by-numbers form or in cartoons. This $hit is too serious.

Disclosure: Long the precious metals complex.