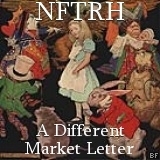 I had forgotten to mention it, but NFTRH88 is out now and for the second straight week it beats subscribers over the head about the true gold miner fundamentals and looks forward to becoming an easier read for the summer, now that we have the hard core case documented and archived.
#88 also looks squarely at the inflationists and deflationists and realizes that the respective herds can flock to the cartoonish cases presented by each group. The rest of us however will see and capitalize on the myriad nuances and ripples within the two warring factions.
There was some broad market commentary in there as well, but the major themes are the case for the gold sector and the inflation/deflation debate.
Hey, have a good week.
Disclosure:
No positions mentioned