It's a consolidation/correction in Au. Nothing more, nothing less.
The consolidation is not indicated to be over until gold at least gets above the two moving averages noted at the blue arrow. MACD is still bear, RSI is at resistance but the weekly AROON trend has sneakily gone up.
The Fed is meeting and some people are expecting a big announcement. Gold says 'don't hold your breath'. We'll find out shortly. If the stock market is rallying on QE expectations, I think it could cool off a bit if FOMC does not come with the goods.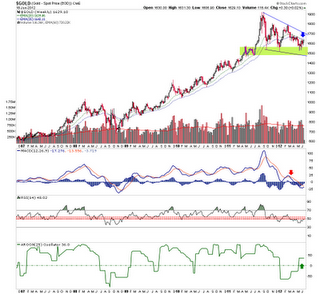 http://www.biiwii.blogspot.com
http://www.biiwii.com