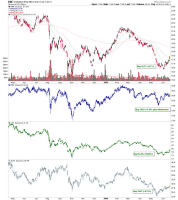 This is not a toot the horn type of post because the new model portfolio's performance has as much to do with timing as my would-be genius ability to pick stocks. I just happened to be in a position to put a real-world model portfolio to work in the newsletter at a particularly good time to be buying.
I am probably known as a gold bug or what have you, and indeed the portfolio is balanced by gold. But the holdings in this portfolio are meant to be part of a diversified mix in alignment with whatever my view happens to be on an intermediate (read: less frequent trading) basis.
The chart shows a few items I felt were due for an extended swing trade and these were first presented in NFTRH a couple weeks ago in #190. Emerging Markets, Emerging global income (w/ dividend), Lithium and the premier silver royalty stock, SLW. The portfolio also holds my two favorite gold explorers, crude oil, a couple REE stocks and another global income fund, all bought on recent downside excess along with a tactical actively managed global fund and the Permanent Portfolio fund 'for all seasons'.
The portfolio will maintain a strict risk management regimen at all times, but not in trading the short term swings. If I believe the intermediate is still on coarse, I'll try to keep this portfolio intact and on course to provide capital appreciation and income in sensible areas and manage risk and re-balance as needed within that context. A nice, diversified group is the ideal.
This adds a tier of quality to the NFTRH service that previously only included a non diversified 'speculation' portfolio, which is my actual IRA. Now I can feel better about going into more detail on what I believe is a more sensible take on how one market manager is deploying (and preserving) funds in my regular brokerage account.
http://www.biiwii.blogspot.com
http://www.biiwii.com
Subscribe to NFTRH or
Subscribe to the free eLetter
Disclosure: I am long EMF, TEI, SLW, MCP, REE, USO, GIM, SHY.