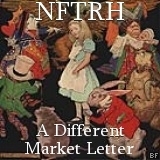 I Forgot to put the weekly tickler out there.
NFTRH
90
attempted to wrap up at 10 pages and finally, squeezing out every bit of white space on page 15, it did just that.
There was an extensive look at gold, technically from daily and weekly perspectives and another review of the case for gold mining as I attempt to be clear as to what is at stake and in store. The misperceptions noted in the previous post with regard to what is inflation... what is deflation... are key to our analysis. There will be winners... it's either that or the whole financial world ends under the collapse of the derivatives construct Mr. Coxe notes below... and there will be losers; big time losers. I don't like losing.
There is also a check in on the expected sentiment-based relief rally currently in progress and combining the state of the weekly VIX with the current sentiment structure, we project the right ingredients (data points) for a time when it may be right to be bearish again on the broad market and commodities. There is no inflation after all. ;-)
NFTRH90 also did technical analysis on some favored gold/precious metals stocks which, as long as I have fundamental reason to be bullish on this sector, will be an ongoing thing. The HUI-Gold ratio is a beautiful thing and in my opinion it truly IS different this time (from 2008) and while traditionally a bottom feeder, I am not afraid to be bullish at these [supposedly] lofty levels. Pending the possibility that the 'misperceptions' trade may provide one final downside opportunity of course.
NFTRH90 out now. Hey, have a great week!
Disclosure:
No positions mentioned