Whether you measure it in units of oil or industrial metals, gold's real price (NYSEARCA:RPG) is elevated both on the long term trend and since bottoming out earlier this year. This is what happens during a cycle of economic contraction. The gold-oil ratio (GOR) is a very important component of the RPG as pertains to gold mining operations.
NFTRH used a chart similar to this to ID what could be an oncoming short term rough patch for gold sector fundamentals, for the Q4, '11 reporting season. Lo and behold we now hear all about how these operations just cannot keep their costs from creeping upward.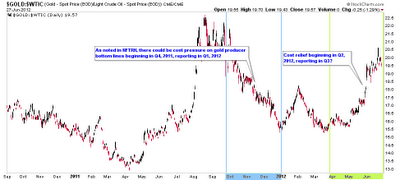 Well, after bottoming out in Q1, '12 the GOR went nowhere for a few months and turned up during the quarter we are completing this week. One wonders what might show up in the upcoming reporting season.
With this sector, there are dangers from boneheaded management to unsafe political climates. So the risks are always there. But for the short term, the oil 'input cost' is not one of them.
http://www.biiwii.blogspot.com
http://www.biiwii.com