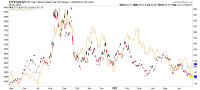 The FOMC has officially stated its intention to manage the 30-2, 30-3, 10-2, 10-3, etc. yield spreads. It has officially stated its intention to manage them toward declining long term yields in relation to short term yields. This is official and from the FOMC's own statement. It is not tin foil hat stuff.
More fact: Gold has followed the 30-2 down into correction mode ever since Op/Twist was first cooked up in September, 2011. That is because this particular alignment of yield spreads implies permissive policy on the longer end (and don't forget ZIRP as a bonus), and little inflation or systemic stress all at once. A nice little painting.
More fact still: If Op/Twist achieves its stated goals and if gold does what it has done since September, the relic would remain under pressure by indirectly manipulative policy. But what is important to the broad summer rally theme is silver's ability to out perform gold in the near term.
Gold can wait. It has waited centuries after all and most recently it has waited throughout the entirety of this decades old experiment in Keynesian fiat we've got going here.
There are a lot of moving parts to this market, and the second half of 2012 promises to be very interesting.
PS: Happy Canada Day to my friends north of the border.
http://www.biiwii.blogspot.com
http://www.biiwii.com