There are still articles showing up in the MSM talking about what a good idea it was to 'sell in May and go away'. But the truth of the S&P 500 chart begs to differ. Yes, it has been a nerve wracking couple of months, but as of Friday the SPX is above where all but the most astute of the 'sell in May' contingent got out.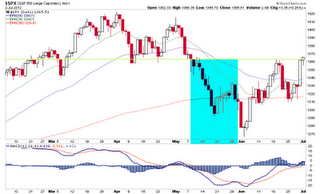 I am not trying to be a wise guy bull and indeed I have significant reservations about the nature and duration of this rally. But a rally it is, and a rally it has been since the June 4th bottom. Not only that, but SPX has formed an attractive looking pattern for which we have higher measured targets if it remains intact as expected.
I got some grief when I wrote an article called 'Dumb money sold in May and went away'; mostly from Seeking Alpha commenters who apparently took the title and theme personally instead of for what it was; a simple contrary setup.
I do not love this market by any means. But I am still long (and profitable) several positions that were bought down near the lows (Lithium, Rare Earths, a tactical global fund, a global bond fund) and others in technology and energy added since.
Last week as SPX tested but did not fail support at the EMA 200, I held, white knuckles and all. This market may yet prove that the dumb money sold in May; especially if the rally ends up going on long enough to drag them back in again before any coming change to bearish again.
In fact, here is the latest aggregate sentiment structure per sentimentrader.com. Graph 1 is the one originally used in support of the idea that dumb money was selling in May. Graph 2 is current. The setup is now much less bullish than in May, with the question being how contrary bearish will it get before the rally ends.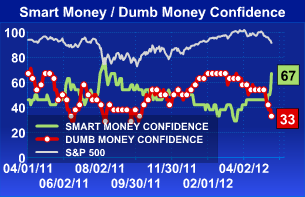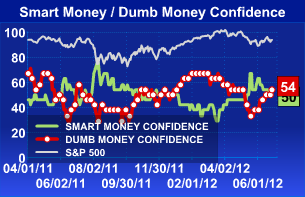 http://www.biiwii.blogspot.com
http://www.biiwii.com