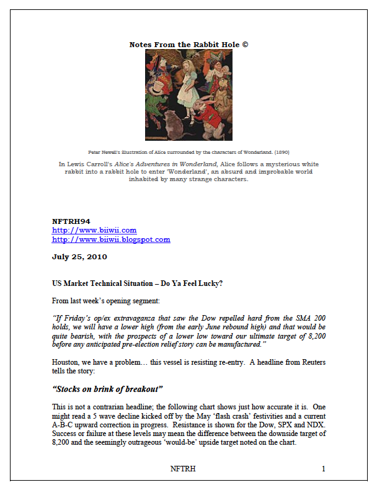 The following is excerpted from the email that accompanied the
NFTRH94
attachment to subscribers.  One might summarize it as "Hi folks, I really can't tell you much right now but have a good summer".  One might summarize it that way, but one should realize that in order to ultimately win at the big game, there are extended phases when extreme patience must be exercised.  So, it just is what it is for now.
"You will note that #94 marks the beginning of a new phase, where the analysis begins to look ahead, beyond the deflation impulse scenario that we have followed for so long.  I have stopped well short of revising the analysis because as you will see, there are many contradictory signals in play right now and the 'd Boys' are not out of the picture yet.  Not by a long shot. 

But my personal ultimate big picture view is one that says the deflation argument is needed every so often for policy makers to have the ability to continue on with business as usual, i.e. inflationary monetary policies that are designed to promote growth at all COSTS.  Hence, I must begin to allow for the possibility that we have already had the deflation event, which would be a sort of 'deflation-lite' if that is all there was to it.


You will note that my personal stance remains one of patience with no outbalanced commitment as of yet to one scenario or the other.  I will resist manufacturing conclusions for you and let events help us define each week where we are going.

Regards,


Gary"


Disclosure:
No positions mentioned