This week we draw parallels between the traditional 2nd year performance of the Presidential Cycle and the current straight up technical analysis on the S&P 500.  Alice said things were getting "curiouser and curiouser" (we just watched Tim Burton's version of Alice in Wonderland last night) but are they?  Or are they making some real sense?

We will know shortly if we are to have confluence with upside targets for things like Copper, logical upside extensions in stock markets and ultimately, the Prez cycle.

Gold and gold mining status is reviewed with regard to several currencies, the ratio to the Dow and of course the compelling picture being painted in an ongoing manner in miners' ratio to gold (HUI - Gold) and in my view, the frequent expressions of frustration from impatient gold bugs are exactly what I like to see.  If the current analysis is correct, they will get more opportunity to be impatient - or worse, to puke up their shares before too long.

Finally, I mentioned a new uranium buy here on the blog last week.  This company is looked at in some depth and the case for uranium is reviewed as a sort of add-on after I thought NFTRH95 was all done upon finishing up the portfolio section.

NFTRH95 out now and yes, it is a good one.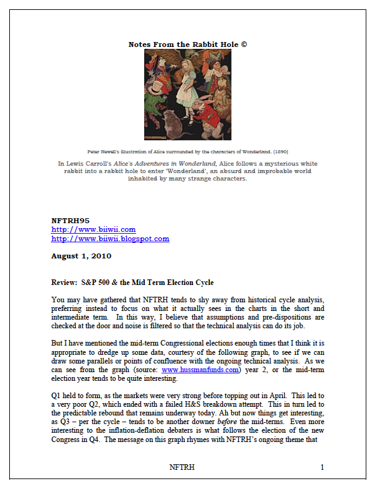 Disclosure: No positions mentioned