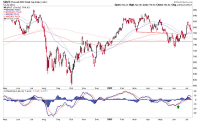 Markets are still making higher highs and higher lows. But but but... the markets are supposed to tank claim the bears. Well maybe my furry friends, but despite the negative feel of this summer, they are making higher highs and higher lows.
Not only that, but yesterday many made reversal candles, like the Hammer on the Russell 2000 (RUT) yesterday. This is an old chart that was used to illustrate the (red dotted) neckline to the former topping pattern, which nicely morphed into the EMA 200 (solid red line). The EMA 200 provided resistance into late June and now? Support.
The Ticker Sense blogger poll came in yesterday and I had to force myself to go with 'neutral' as opposed to bullish. Beyond the corrective July 'chop' I am still bullish on most assets, and believe changes are in store for deflation-o-phobes clinging to T bonds and Uncle Buck.
http://www.biiwii.blogspot.com
http://www.biiwii.com/analysis.htm