A decline here and we can forget the bull contrarian stuff and get ready for a blow off in deflation expectations. This is basically the line in the sand. If this were to happen, do you think Prechter would finally be re-anointed?
I'd guess the line will hold, but that is a blogger's guess or lean or what have you.
It is notable how new gurus (post-Prechter) took the inflation play and have made lucrative careers out of it, just as the head d Boy did with deflation.
You know who the inflation gurus are; selling hyper inflation and how to prepare for it since 2001. Well, we have been hyper inflating for years now, because we have been taking debt right off the charts into un-payable figures with too many zeros attached.
But the thing is, the inflation is not taking. What has remained rooted is the deflationary need to correct and a natural penchant for economies to decelerate. This is going to be interesting.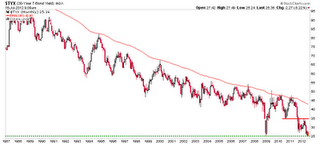 http://www.biiwii.blogspot.com
http://www.biiwii.com/analysis.htm