I was just pondering the current structure of the SPX, saw a little series of candles that I was curious about and decided to go back and pull a chart of the lead up to and through the crash for comparison.

Then I got sidetracked as memories of managing that event came back to me and I thought it would be a good little chart review for the blog.  A review about how important patience and constant review is to the act of portfolio management, stock trading and certainly, financial market letter writing.

1) Early October, 2008 the SPX suffers the most intense leg of the crash, leading to the ultimate bottom in two important momentum indicators, MACD and TRIX (a slower, smoother confirming oscillator).

2) There is a lot of chop and grind and while the markets are hysterically over sold with the media touting Great Depression 2.0, there is no hint of a buy signal for the broad S&P 500.  NFTRH is busy buying gold stocks like KGN, AAU, SBB.to, FRG, etc... at literal tiny fractions of their current prices and letting the pig (SPX) stew in its own juices.

3) Ah, but what do we have with the new low in late November?  MACD and TRIX (there were other indicators flashing buy as well), give a nice bullish divergence and it is time to strongly consider the bullish cash - NFTRH does and even buys some 'bull' stocks - and this plan remains on track right on through the break of the SMA 50.  All good.

4) All not good.  First the EMA 20 fails (short term signal not shown on this chart) and then when the SMA 50 fails, it is time to dump the bullish case (and the bull stocks) and tend the goldies and cash.   A long, agonizing (for standard market participants) period ensues amid the banking crisis' downside blow off, with media on Armageddon Watch 24/7.

5) But in early March we got a bottom - confirmed by MACD and shortly thereafter, by TRIX - with another bullish divergence; a mega one on top of the previous.  I am bullish copper, bullish oil, bullish commodities and bullish HOPE, as in "Hope 09 has begun.  It is time to not be in the herd that the major media are tending.

6) I have included at the right side of the chart the extent to which I remained very bullish.  What looked to me like tops in the momentum indicators along with the proximity below the SMA 200 and lateral resistance to the January high had me thinking "the recovery" would be more fleeting than the impressive upward grind it would go on to become. This, despite having targeted SPX 1224 earlier in the recovery (another lesson well-learned; sometimes it is best to stick to the bigger picture charts).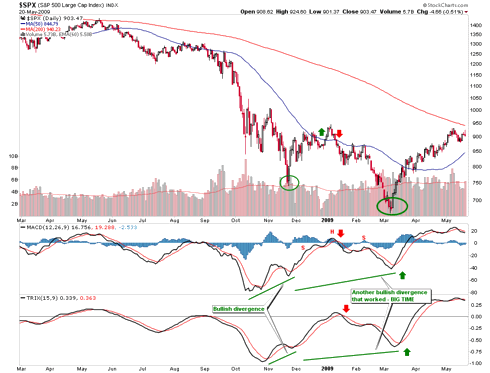 That's show biz... Nobody knows what will happen, but you can certainly get a leg up on money making (and capital preservation) opportunities if you do hard work and remain on task.  Consider this post a stroll down memory lane with a geek who always wants to be learning and improving.

Let's have a good week.


Disclosure: Long KGN, SBB.to and FRG