Beats me, but...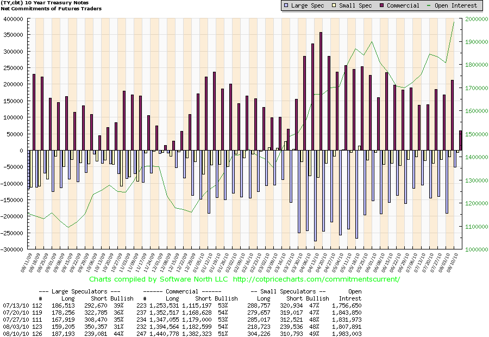 It looks like the commercials had their heads up on the 10 year into Bernanke's latest and most desperate inflationary attempt.  Open interest is surging, commercials are now selling and the dummies AKA large and small speculators are less bearish.

Edit (8:39)  And right on cue, this classic bit of writing from Rick Ackerman:


A Lush Mirage
Additional "support" for Treasurys is coming from the government itself, since the U.S. is now parking the proceeds from maturing mortgage paper in longer-dated T-Bonds. We put quotes around the word "support" because it is beyond stupid to think that a bankrupt government's purchases of its own debt supports much of anything except a mirage. Even so, we accept that the institutional lemmings will continue for yet a while longer to gorge themselves on the coconuts, cool water, dates, figs and olives produced by their lush mirage. As to why bond yields would be headed higher, we can only speculate that perhaps the debt paper issued by newly-austere Europe will gain favor for a while.
Disclosure:
No positions, but thinking about shorting the long bond