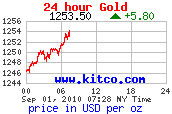 I catch myself trying to pretend I do not want to be a promoter of my
premium services
.  I catch myself getting lazy about submitting content to the aggregation sites for greater exposure.  I catch myself trying to pretend I am more humble than I actually am.
Well, part of the blog's purpose is to help me prove to you the worth and value of the premium newsletter, so here goes:
Back when Hulbert's gold bug newsletter sentiment was languishing around 9% bullish, I sent an alert (with GLD chart) out to subscribers that mentioned an oncoming rise to a marginal new high target if gold could rise above and hold the SMA 50.  A nice little pattern and target were activated immediately thereafter.
While I never recommend holding out to the exact tick of any target if you are a trader, we are just about there.
You know, be brave when the herd is hysterical and stuff like that?  Sometimes this market is like taking candy from babies. Noisy babies all clumped together seeking comfort.
Now I will go back to being humble.  ;-)
PS:  At that time I used some cash I had in
BullionVault
to  turn some worthless USD into Zurich Bullion.  I don't think I am going to trade it out just yet, even though that vehicle is great for 'press of a button' trading in real bullion.
Disclosure:
Holding the bullion noted in BullionVault