Here is an old chart, updated and quite interesting.  Back in Armageddon '08 I had projected a rebound to around 1400, which CDNX exceeded.  This chart was produced in managing its rebound within a rising wedge up to the downtrend line.  Well... boink, it hit and turned down there.  Now the rise back to the line. 

If this most speculative of stuff rises from here, and the Silver-Gold breaks out, it is time to pretend to be bullish with the pretense rooted in the full knowledge that said pretense is created by too much of the developed world's digital and paper money sloshing around the globe looking for a home, whether in speculative games or in real resources, assets or economies. 

The other thing I find interesting is the number of quality junior and exploration precious metals stocks that are breaking to all-time highs or at least post-2008 recovery highs vs. the average $CDNX story stock.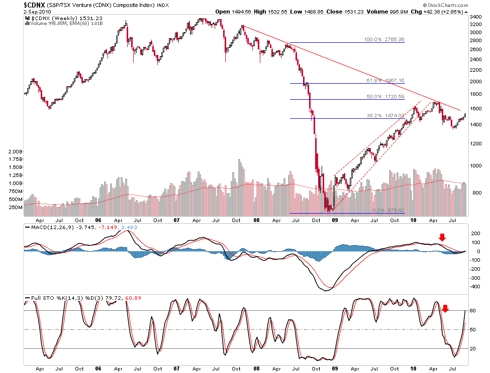 Disclosure: No postions mentioned