Taking the theme of an email received from a reader and expanding...
There are obvious similarities for the Transports between the run up to Armageddon' 08 and the current period.
More than the similar triangle structures I would be concerned with what the momentum indicators are doing. Here we look at MACD, which bearishly diverged into a wash out and recovery to test the highs. At that point MACD failed to positively diverge and preceded a major crash.
The same setup is in play today and I would say that if you see that lower trend line break, get into full risk management mode. There is of course also the chance that bears are feverishly looking for things that echo the glory days of 2008 in denial of the current rally.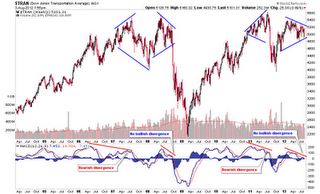 http://www.biiwii.blogspot.com
http://www.biiwii.com/analysis.htm