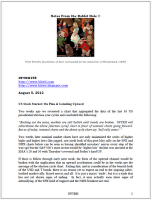 I got back from vacation - much of which was spent in the Sierra Nevada mountains with a hard working little hamster on a wheel trying to keep internet access up and running - late last week and am finally settled and getting acclimated with the market again.
Not much has changed as the broad US market continues to saw and cut and gouge its way upward in the jagged, saber-toothed rally that has torn at people's nerves since May. It doesn't help that the heaviest hitters in big mouth policy have been jerking the market back and forth with whatever their agenda du jour happens to be on any given day.
Global markets are making what look like in some cases to be nice bottoms and commodities are in varying stages of relief rally. Precious metals? Ha ha ha... as I said, not much has changed. HUI is constructive but not yet confirmed to a signal that we are watching closely.
Also, this week we introduced a small $20,000 trading portfolio that made quick trades in ultra silver AGQ and Ultra T bond bear TBT for quickie profits of 6% and 3% respectively while I was on vacation. This was more to get the feel for trading once again than anything else. This is going to be the focus of a new and separate service that will focus solely on technical trading 'in-week' as I have felt a responsibility to be more of a 'steady Eddie' as a newsletter writer but miss actively reaping profits for no other reason than profits are good.
I think 198 is a good letter. Technicals are stated. Market indicators are updated and the theme is consistent. We have been cautiously bullish since May and that has been the correct course - though I'll be the first to admit it has not always felt that way.
NFTRH198 out now.
http://www.biiwii.blogspot.com
http://www.biiwii.com/analysis.htm